We are AFRICAP APPAREL

Inspired by a passion for travelling, cycling and fashion. AFRICAP fuses the all important cycling cap with the vibrancy and soul of African Ankara. Sourced and handmade in a variety of West African countries each cap is named after a particular region and tells it's own story.

Whether worn purely for cycling or casually on a day to day basis an AFRICAP will undoubtedly make sure it's wearer stand out.

"To be honest I started wearing cycling caps way before I even started to cycle seriously. Whilst I seldom cycle without one, I think they can be worn in almost any setting whether it be for other sports or going out for coffee or just with friends."
"Cycling gave me the idea but these caps are for everyone."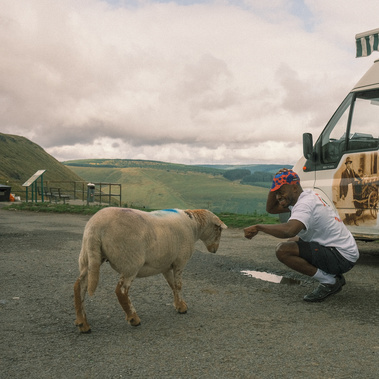 Mohammad Sesay - (Hammer) Founder and Managing Director
Describing himself as a British raised Sierra Leonean, Hammer is the founder of AFRICAP Apparel. I always constantly cycling mainly as a form of transport as I always lived in cities. I started to cycle more seriously later in life when I started doing log distance charity rides from the UK to European cities.
But I always wore cycling capes. Since I can remember I have always found them stylish and versatile. I started creating my own caps while living in Nigeria, where you tended not to buy clothes but had them made. After receiving a lot of support from friends and strangers alike I decided to bring the caps to the public.